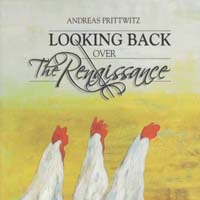 Andreas Prittwitz, saxofonista alemán, pero arraigado en España desde hace muchos años y con una larga carrera como músico de sesión dándole a todos los palos, desde el barroco al rock; comienza con este disco un nuevo proyecto consistente en mezclar músicas clásicas con tranquilo jazz .
Es el tiempo del Renacimiento el agraciado con el primer volumen."Looking back over the Renaissance» no es nada mas ni nada menos que eso: poner al día una muy buena selección de temas del Renacimiento inglés, con John Dowland a la cabeza. El compositor británcio está acompañado por otros bellos ejemplos de música española de la época y alguna danza de Susato.
El grupo que acompaña a Prittwitz, un hombre que ha trabajado mucho en el mundo de las bandas sonoras para el cine y que es poseedor de una sonoridad en el saxofón que recuerda a Jan Garbarek, se adentra con gusto y profesionalidad en este bello mundo, creando unas atmósferas de buen gusto a lo largo del disco.
Ha destacar por la calidad propia de los originales el "Lachrimae" de Dowland o el "There Were Three Ravens" de Ravenscroft, todo ello sin desmerecer la "Endecha de Guillen Peraza" Canaria ni el "Riu riu chiu".
Once ejemplos de gran música que no desmerecen en manos de Prittwitz y su gente. Ahora sólo queda esperar los siguientes volúmenes anunciados: "Looking back over The Barroque" y "Looking back over The Middle Ages", para ver si las interesantes expectativas se van cumpliendo.
I. Ortega
Discográfica: 18 Chulos Records
Distribuidora: 18 Chulos Records
Año: 2008
Músicos: Andreas Prittwitz (flautas, clarinete, saxo soprano); Laura Salinas (viola da gamba); Antonio Toledo (guitarra española, bouzuki); Sergio Martinez (percusiones); Raquel Castro (violín)
Estilo: Jazz moderno