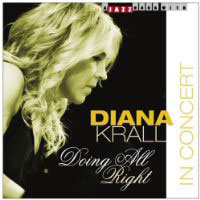 La cantante de origen canadiense Diana Krall ha actuado tres veces, y en otros tantos escenarios diferentes, en el Heineken Jazzaldia de San Sebastián. En sus dos últimas apariciones ha cosechado importantes éxitos por parte de un público (en la primera era prácticamente una desconocida y actuó ante no más de cien personas y por encima el concierto se lo robó Russel Malone que por entonces era su guitarrista), tal y como queda atestiguado en este disco grabado en directo y que recoge su última presencia en San Sebastián acaecida el 24 de julio de 2008.
Diana Krall no se complica mucho la vida en el repertorio y de esta manera presenta nueva canciones que dan cuenta de sus intereses musicales, que son lo bastante amplios como para abarcar desde standars de jazz como "Let's fall in love" o "I was doing all right" al rock comprometido de Joni Mitchell con "A case of you" pasando por la música popular de un Burt Bacharach con "The look of love".
Aunque muchos no acabamos de entender donde radica ni del por qué del éxito de esta cantante, hay que reconocer que en esta ocasión parece más entregada a lo que interpreta, pues hasta esta oportunidad daba la impresión que pasaba como de las canciones que interpretaba, como si no fueran con ella. Hay que mencionar también que se muestra también más segura y libre con el piano logrando buenos momentos con sus solos.
El trío que la acompaña esta muy correcto, subrayando los valores de la líder pero aprovechando las oportunidades que el concierto les brindó para brillar en su solos, donde hay que mencionar el trabajo del guitarrista Anthony Wilson.
José Manuel Pérez Rey
Músicos: Diana Krall (voz, piano); Anthony Wilson (guitarra); Robert Hurst (contrabajo); Jeffrey Hamilton (batería)
Discográfica: JHR
Distribuidora: Karonte
Año: 2010
Estilo: Jazz vocal