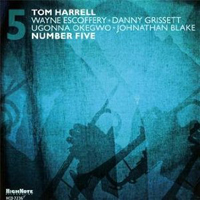 El trompetista Tom Harrell sigue demostrando su fuerza y valía en cada disco y este 'Number Five' (Highnote/Karonte) lo vuelve a confirmar. Tom sigue cultivando, como si por el no pasara el tiempo, el hard bop con una intensidad y gusto que muchos quisieran y lo sigue haciendo con su formación estable desde hace un lustro, casi nada para este díscolo mundillo del jazz contemporáneo.
En esta ocasión abre el cd con un dúo con el batería Jonathan Blake que deja las cosas claritas. Durante todo el disco el quinteto inicial actúa dividido en dúos, trio, solos, con lo que el aburrimiento queda descartado.
La formación es sólida e incluye musicos de la valía de Wayne Escoffery al saxo tenor, Danny Grissett al piano y Fender, el gran Ugona Okegwo al contrabajo y el anteriormente mencionado Jonathan Blake a la batería. Con esta formación seria un crimen no dar cancha a todo el grupo y por eso tambien hay espacio para el quinteto completo en varios temas.
De las once composiciones de 'Number Five' siete son propias y tan solo cuatro son versiones, 'Blue´n Boggie' de Gillespie y Paparelli que es el dúo con el batería que sirve de apertura a la sesión, 'Star Eyes' de Depaul un bello solo de Harrell, un 'Preludium' basado en un tema de Vincent Persichetti y 'Blue Time' una composición de Tad Dameron donde Tom Harrel vuelve a tocar en solitario poniendo una bella guinda al pastel dando por concluida la grabación.
Este disco sigue demostrando como a sus casi setenta años Tom continua en un estado de forma envidiable dándole a todos los palos, hard-bop de la vieja escuela en 'GT' o 'Melody In B-Flat', preciosas baladas como 'Right As Rain', la gran 'Journey to the Stars' y 'Present' y tiempos medios que nunca faltan como 'N 5' o 'The Question'.
Otro acierto en la brillante carrera de este gran músico que siempre se supera en todos los aspectos de su vida.
I. Ortega
Autor: Tom Harrell
Título: Number Five
Músicos: Tom Harrell (trompeta, fliscorno), Wayne Escoffery (saxo tenor), Danny Grissett (piano, Fender), Ugona Okegwo (contrabajo), Jonathan Blake (batería)
Discográfica: Highnote
Distribuidora: Karonte
Año: 2012
Estilo: Hard bop