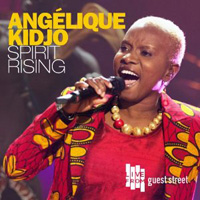 'Spirit Rising' (Wrasse Records/Harmonia Mundi) es el primer disco grabado en directo de la cantante de origen beninés Angelique Kidjo (nacida como Angelique Kpasseloko Hinto Hounsinou Kandjo Manta Zogbin Kidjo) , una de las grandes voces de la música africana.
A veces sucede que al referirse a una cantante se le añaden calificativos que pueden llegar a ser entre bastante y muy hiperbólicos. No es el caso de Angelique Kidjo, y sólo hace falta ver la lista de reconocimientos, fuera del mundo de la música, para demostrarlo: la BBC la incluye en la lista de las 'Africa's Most Iconic Figures', el diario The Guardian la consideró una de las 'Top 100 Most Inspiring Women in the World' y la revista Forbes la eligió la primera mujer en su '40 Most Powerful Celebrities In Africa'
'Spirit Rising' fue grabado en Boston para el canal público de televisión PBS y en las 16 canciones que interpretó hay lugar para sus grandes éxitos ('Afrika', 'Agolo') y para versiones de grandes canciones del rock ('Gimme Shelter' de los Rolling Stones), el reggea ('Redemption song' de Bob Marley), el soul ('Move on up' de Curtis Mayfield) y la música sudafricana ('Malika' de Miriam Makeba).
El elemento que aglutina todo el show es el personal tributo que la cantante le realiza a su país natal (y al continente africano en general), donde creció y al que continúa fuertemente ligada.
Angelique Kidjo es pura exhuberancia, un despliegue de energía tanto vocal como escénica, y una entrega sin concesiones a lo que está haciendo. Para esta primera oportunidad de grabar en directo la cantante se ha rodeado de buenos y diferentes colegas para que la acompañen. Entre todos los invitados hay que destacar las versiones que realiza al lado de Dianne Reeves del 'Gimme Shelter' y la realizada con Branford Marsalis sobre el apoteósico 'Move on up', al que le da descaradamente un vuelta africana.
Un disco para no perdérselo.
José Manuel Pérez Rey
Autor: Angelique Kidjo
Título: 'Spirit Rising'
Músicos: Angelique Kidjo (voz), Christian McBride (bajo), Thierry Vaton (piano), Dominic James (guitarras), Daniel Freedman (batería), Magatte Sow (percusión), Marvin Sewell (guitarra electrica). Artistas invitados. Borromeo String Quartet, the Kuumba Singers of Harvard College, Dianne Reeves (voz), Josh Groban (voz), Branford Marsalis (saxo tenor), y Ezra Koenig (voz)
Discográfica: Wrasse Records
Distribuidora: Harmonia Mundi
Año: 2012
Estilo: World music