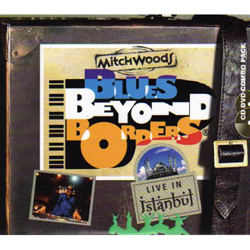 Estas grabaciones fueron efectuadas en directo desde Estambul por el gran cantante y pianista de blues, rhythm and blues de New Orleans y boogie woogie, Mitch Woods, durante su gira por Turquía, en octubre de 2010, país en el que fue acogido como si de un héroe de guerra se tratara.
Según relata el propio Mitch fue una gira inolvidable por veinte ciudades durante cinco semanas, con un total de veintiséis actuaciones.
A tenor de cómo suena el disco y cómo se les ve en el dvd, tanto a él como a los músicos que le acompañan, la cosa funcionó a las mil maravillas, Woods está en plena forma, se muestra contundente, vistoso, intenso, dominando el escenario y la puesta en escena como si un verdadero maestro de ceremonias se tratara. Lo tiene todo controlado, nada se le escapa, su voz y su fraseo con el piano están a la altura de las circunstancias y tanto la magia, como el encanto y el embrujo del blues y del boogie fluyen constantemente en todas y cada una de las catorce canciones que se incluyen en este sabroso y explosivo cd + dvd.
Sus All-Star, The Rocket 88 están inmensos, soberbios, brutales, son pura dinamita. Canciones de Roy Milton, Professor Longhair, Jackie Brenston, o del propio Mitch Woods se suceden de forma excitante y colosal.
En definitiva, una serie de canciones que dejarán una profunda y duradera huella en la mayoría de los aficionados que tengan la suerte de contar con una copia de este digi-pack.
Vicente Zúmel
Autor: Mitch Woods
Título: Blues Beyond Borders
Discográfica: Club 88 / VizzTone
Año: 2014
Estilo: Blues